---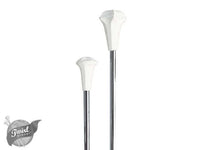 SensiCore batons are built to absorb vibration through an exciting patented technology. Up to 70% of baton vibration is eliminated by the SensiCore baton shaft, which has a frequency-tuned polymer core. The effects of impact to shoulders, elbows, wrists, and hands are greatly diminished. Twirlers gain an ability to practice and perform longer and enjoy an improved "feel" while twirling. It is also balanced perfectly for an ease of handling during rolls and contact material, and generally faster rotation.
Patented SensiCore technology; professionally weighted and balanced for optimal performance

"Drop It and Stop It" technology - unique star shaped, sculpted ball & tip prevent the baton from rolling away when dropped

Plain, smooth, sleek shaft - no "flutes"

Thicker 7/16 inch shaft - this thicker diameter has a more substantial feel and more surface area, often chosen by competitors
Ultra-long lasting and durable; Manufactured with precision machined, non-bending chrome plated steel

Recommended by professional coaches and teachers worldwide; the baton choice of many world class athletes and champions

Made in USA; Comes to you sealed in original plastic sleeve packaging with cardboard hang tag
Manufactured by Star Line, an American company in business since 1959 and the established and respected leader of baton products. Many competitors and champions worldwide choose Star Line.
We are an authorized Star Line dealer; buy direct from the source you can trust!