---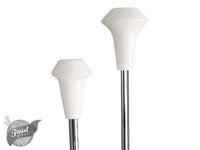 The Thicker Starlet is a basic baton designed for beginning students as well as more experienced twirlers. Some teachers and coaches prefer this thicker baton over a standard, typical 3/8" shaft.
Professionally weighted - not like a baton you'll find in a toy store
Thicker 7/16 inch diameter shaft - this thicker diameter has a more substantial feel and more surface area
Ultra-long lasting and durable
Manufactured of non-bending, chrome plated steel
This model recommended by professional coaches and teachers
Delivered to you new and sealed in manufacturer's packaging
Made in USA
Manufactured by Star Line, an American company in business since 1959 and the established and respected leader of baton products. Many competitors and champions worldwide choose Star Line.
We are an authorized Star Line dealer; buy direct from the source you can trust!