---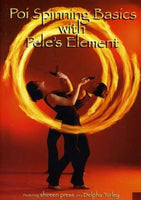 Sale
Poi Spinning Basics is an essential guide for the beginning poi and fire dancer. As the popularity of fire dancing grows worldwide, so has the demand for instruction that illuminates the dynamic movements of poi spinning.

Highly sought after as teachers, Shireen and Delpha of Pele's Element have developed a clear, concise and informative style of guiding people of all ages from basic levels to advanced skills, including fire safety and performance. Each move is broken down into short, easy to follow lessons with precise transitions so you can do the move in equal time, split time, forwards, backwards, and combine moves smoothly. Lessons include: Intro Basics, Circles, Crossing, Weave, Backwards Weave, Corkscrew, Butterfly, Wave, Low Wave, Over the Head, Side to Side Turning, Weave in a Circle, and Butterfly Turn. Each lesson is reviewed, and then there are two Final Review segments that are actually short routines that combine a number of moves with walk-through instruction. Complete menu for easy navigation and reference. Resource list also included.
This highly regarded DVD is a valuable resource for beginning poi spinners, poi instructors, and fire arts performers

This DVD is in English with Spanish and Japanese subtitles available


Coded to play in all regions and worldwide

Running time approximately 60 minutes


Delivered to you new and sealed in manufacturer's packaging

Made in USA
What they are saying about Poi Spinning Basics...
"The best instructional poi DVD there is" - Murphy Whips, Australia
"An essential guide for the beginning poi and fire dancer" - Magic Geek

"I can't praise your teaching style enough. Thank you, thank you, thank you, for creating such a fantastic DVD. I've learned so much and I've only had it for one day." – Jeannine

"I am new to poi and just bought your training video. I am AMAZED at how quickly I was able to learn the moves from your video! Your teaching style really lends itself to learning and I have learned how to weave, turn, and focus more on planes that I was able to before!" – A-delle

"I received my Pele's Element video yesterday and of course I sat right down and watched it! I love it, you guys make the hardest stuff so simple. You have a gift for explaining movements in such simple terms that it's impossible not to understand. Wonderful!!!" – Jaimie

From JUGGLE Magazine:
Several informal videos and a number of books and pamphlets on poi spinning have surfaced in the last few years. I've written here about the best of them, and tried to introduce the art form to jugglers. This is the last one I'll need to do for a long while because it quite thoroughly covers the last niche left in introducing and instructing poi to the novice spinner.
Nevertheless, we now have a video that covers all of the basics of poi, from beginning to end, and turns any willing novice into a journeyman spinner, capable of holding their own in any gathering of spinners.
That is quite an accomplishment. Had an equivalent instructional video been available to jugglers in the 1950s or '60s, the standard of excellence today might be seven clubs rather than five.
Notice that Poi Spinning Basics concentrates entirely on the details: the specific moves and the transitions between them. It carefully establishes the base of skill needed for each trick, builds to the next level of related difficulty, and then makes that the base of further instruction. This kind of curriculum development makes perfect sense. Learning is quick and easy, and each new skill is offered in a way that feels natural and effortless.
– Eric Bagai
Credits: featuring Shireen Press and Delpha Turley, written and produced by Shireen Press and Delpha Turley, direction and cameras by Corbin Supak, lighting and set design by R. Sean Galloway, makeup by Roshan Tayefemohajer, editing and design by Corbin Supak, cover photo by Sean Galloway