---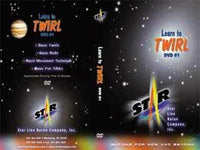 Sale
This beginning level How to Twirl a Baton DVD is designed to help the baton student or new athlete to learn twirling with proper technique. This DVD is also helpful to baton coaches interested in correctly teaching basic baton twirling. The DVD is professionally filmed and demonstrates the entire spectrum of basic baton twirls and body moves. Correct technique and form are emphasized. Each move is shown slowly and exactly. This wonderful DVD offers instruction in strong basics that create a foundation for learning more intermediate and advanced twirling.
Brought to you by one of the premier manufacturers of professional twirling batons, Star Line
Delivered to you new and sealed in manufacturer's packaging
Made in USA
DVD #1 is the starting spot to Learn How To Twirl. You will start at the very beginning and progress through the beginner level by using all three DVDs in this series.

Material taught in DVD #1:

Basic Twirls

Figure – 8, Flat Wrist Twirl, Forward Loop, Reverse Loop, Reverse Figure-8, Flourish, Whip, Vertical 4 Finger Twirl, Thumb Roll, Flat (Horizontal) Toss

Basic Rolls

Straight Arm Roll, Front & Back Neck Roll down, Elbow Roll, Hand/Hand Roll, Hand Roll Figure-8

Basic Movement Technique

Stretches (Straddle position on the floor), Ballet Positions, Pivot Turns Left and Right, Lunges - 2nd and 4th position, Step Ball-Change, Step Close Step (Chasse), 3 Step Turn (Chaine Turn)

Basic Fun Tricks

Straddle Pass, Twist up – Untwist, Slap Trick, Pretzel, Front 2 Hand Spin, Dead Stick Release, Neck Wrap, Elbow Pass, Elbow Grab, Head Scratcher, Back Scratcher

Basic March Routine

9 sets of 8 counts of a Basic March routine from material learned throughout DVD #1
Manufactured by Star Line, an American company in business since 1959 and the established and respected leader of baton products. Many competitors and champions worldwide choose Star Line.
We are an authorized Star Line dealer; buy direct from the source you can trust!